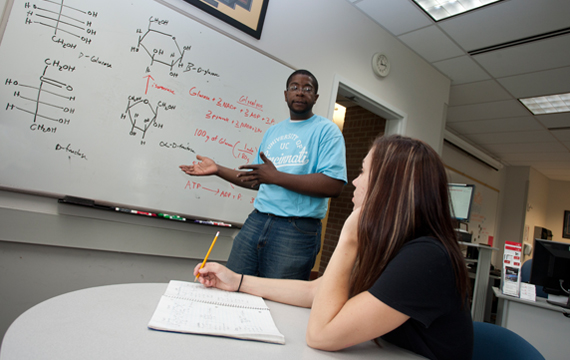 Aspire to achieve with a career serving the people of Ohio, the nation and the world at our premier, public, urban research University.
Faculty Positions
The University boasts a student body of over 43,000 enrolled in over 370 programs of study and is the region's largest employer with over 15,000 faculty, staff and student workers. The University of Cincinnati embraces diversity and inclusion as core values and seeks to empower all members of the University community. The University of Cincinnati is ranked as one of America's top 26 public research universities by the National Science Foundation. U.S. News has ranked UC in the Top Tier of America's Best Colleges. The Chronicle of Higher Education calls UC a "research heavyweight." Forbes, Delta Sky and Travel + Leisure magazines have named UC one of the most beautiful campuses. UC has consistently been named a "green university" by Princeton Review.
Join our Talent Community to receive updates about Faculty Jobs matching your interests.
Search results for "". Page 2 of 6, Results 26 to 50
Title
Worksite Location
Date
Adjunct Instructor, Accounting

Cincinnati, OH, US

Jul 18, 2019

0.00 mi

Business and Finance

Main Campus

OH

Cincinnati-Adjunct-Instructor%2C-Accounting-OH-45201

Adjunct Instructor, Accounting

Cincinnati, OH, US

Jul 21, 2019

0.00 mi

Business and Finance

Main Campus

OH

Cincinnati-Adjunct-Instructor-of-Taxation-LCB-Department-of-Accounting-OH-45201

Adjunct Instructor, Allied Health

Cincinnati, OH, US

Jul 17, 2019

0.00 mi

Healthcare

Blue Ash Campus

OH

Cincinnati-Adjunct-Instructor-Allied-Health-%40-UC-Blue-Ash-OH-45201

Adjunct Instructor, Anatomy and Physiology / Pharmacology

Cincinnati, OH, US

Jul 17, 2019

0.00 mi

Research and Science

Blue Ash Campus

OH

Cincinnati-Adjunct-Instructor-Anatomy-&-Physiology-Pharmacology-%40-UC-Blue-Ash-OH-45201

Adjunct Instructor, Biology

Cincinnati, OH, US

Jun 28, 2019

0.00 mi

Research and Science

Main Campus

OH

Cincinnati-Adjunct-Instructor-Biology-%28A&S%29-OH-45201

Adjunct Instructor, Business

Cincinnati, OH, US

Jul 19, 2019

0.00 mi

Business and Finance

Blue Ash Campus

OH

Cincinnati-Adjunct-Instructor-BUSINESS-%40-UC-Blue-Ash-OH-45201

Adjunct Instructor, Business Analytics

Cincinnati, OH, US

Jul 1, 2019

0.00 mi

Operations and Logistics

Main Campus

OH

Cincinnati-Adjunct-Instructor-LCB-OBAIS-Department-Business-Analytics-OH-45201

Adjunct Instructor, Chemistry

Cincinnati, OH, US

Jul 12, 2019

0.00 mi

Research and Science

Clermont College

OH

Cincinnati-Instructor-Adjunct-Chemistry-%40-UC-Clermont-College-OH-45201

Adjunct Instructor, Chemistry

Cincinnati, OH, US

Jul 17, 2019

0.00 mi

Research and Science

Blue Ash Campus

OH

Cincinnati-Adjunct-Instructor-CHEMISTRY-%40-UC-Blue-Ash-OH-45201

Adjunct Instructor, College of Engineering and Applied Sciences, Fire Sciences

Cincinnati, OH, US

Jul 12, 2019

0.00 mi

Safety and Security

Main Campus

OH

Cincinnati-Adjunct-Instructor%2C-College-of-Engineering-and-Applied-Sciences%2C-Fire-Sciences-OH-45201

Adjunct Instructor, Communications

Cincinnati, OH, US

Jun 28, 2019

0.00 mi

Education

Main Campus

OH

Cincinnati-Adjunct-Instructor-A&S-Communication-OH-45201

Adjunct Instructor, Communications

Cincinnati, OH, US

Jul 17, 2019

0.00 mi

Education

Blue Ash Campus

OH

Cincinnati-Adjunct-Instructor-COMMUNICATION-%40-UC-Blue-Ash-OH-45201

Adjunct Instructor, Criminial Justice, Forensics

Cincinnati, OH, US

Jul 18, 2019

0.00 mi

Education

Clermont College

OH

Cincinnati-Adjunct-Instructor%2C-Criminial-Justice-OH-45201

Adjunct Instructor, Dental Hygienist

Cincinnati, OH, US

Jul 17, 2019

0.00 mi

Healthcare

Blue Ash Campus

OH

Cincinnati-Adjunct-Instructor-Dental-Hygienist-%40-UC-Blue-Ash-OH-45201

Adjunct Instructor, Design Foundations

Cincinnati, OH, US

Jul 18, 2019

0.00 mi

Arts and Media

Main Campus

OH

Cincinnati-Adjunct-Instructor%2C-Design-Foundations-OH-45201

Adjunct Instructor, Digital Media Technology

Cincinnati, OH, US

Jul 14, 2019

0.00 mi

Education

Clermont College

OH

Cincinnati-Instructor-Adjunct-Digital-Media-Technology-%40-UC-Clermont-College-OH-45201

Adjunct Instructor, Economics

Cincinnati, OH, US

Jul 17, 2019

0.00 mi

Business and Finance

Main Campus

OH

Cincinnati-Adjunct-Instructor-LCB-Department-of-Economics-OH-45201

Adjunct Instructor, English

Cincinnati, OH, US

Jun 27, 2019

0.00 mi

Education

Blue Ash Campus

OH

Cincinnati-Adjunct-Instructor-ENGLISH-%40-UC-Blue-Ash-OH-45201

Adjunct Instructor, English and Comparative Literature

Cincinnati, OH, US

Jun 28, 2019

0.00 mi

Education

Main Campus

OH

Cincinnati-Adjunct-Instructor-Department-of-English-&-Comparative-Literature-%28A&S%29-OH-45201

Adjunct Instructor, General Biology

Cincinnati, OH, US

Jul 17, 2019

0.00 mi

Research and Science

Blue Ash Campus

OH

Cincinnati-Adjunct-Instructor-GENERAL-BIOLOGY-%40-UC-Blue-Ash-OH-45201

Adjunct Instructor, German and Asian Studies

Cincinnati, OH, US

Jul 6, 2019

0.00 mi

Education

Main Campus

OH

Cincinnati-Adjunct-Instructor-A&S-German-and-Asian-Studies-OH-45201

Adjunct Instructor, Global Business Environment and International Management

Cincinnati, OH, US

Jun 30, 2019

0.00 mi

Business and Finance

Main Campus

OH

Cincinnati-Adjunct-Instructor-Global-Business-Environment-and-International-Management-OH-45201

Adjunct Instructor, Health Education

Cincinnati, OH, US

Jul 17, 2019

0.00 mi

Healthcare

Blue Ash Campus

OH

Cincinnati-Adjunct-Instructor-HEALTH-EDUCATION-%40-UC-Blue-Ash-OH-45201

Adjunct Instructor, Journalism

Cincinnati, OH, US

Jun 28, 2019

0.00 mi

Editorial and Media

Main Campus

OH

Cincinnati-Adjunct-Instructor-A&S-Journalism-OH-45201

Adjunct Instructor, Judaic Studies

Cincinnati, OH, US

Jul 12, 2019

0.00 mi

Education

Main Campus

OH

Cincinnati-Adjunct-Instructor%2C-Judaic-Studies-in-A&S-Department-of-Judaic-Studies-OH-45201