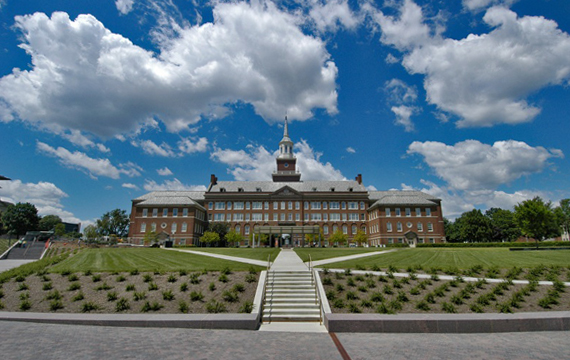 Aspire to achieve with a career serving the people of Ohio, the nation and the world at our premier public, urban research University.
About Us
The University of Cincinnati, founded in 1819, is a premier, public, urban research university located in the heart of Cincinnati, Ohio. The University boasts a student body of over 43,000 enrolled in over 370 programs of study and is the region's largest employer with over 15,000 faculty, staff and student workers. The University of Cincinnati embraces diversity and inclusion as core values and seeks to empower all members of the University community. The University of Cincinnati is ranked as one of America's top 26 public research universities by the National Science Foundation. U.S. News has ranked UC in the Top Tier of America's Best Colleges. The Chronicle of Higher Education calls UC a "research heavyweight." Forbes, Delta Sky and Travel + Leisure magazines have named UC one of the most beautiful campuses. UC has consistently been named a "green university" by Princeton Review.
The University of Cincinnati also has two regional campuses in the Tri-State area. UC Blue Ash is the third-largest college (by enrollment) in the University of Cincinnati. The college began in 1967 and is located on 135 wooded acres in north-eastern Cincinnati and has offered high-quality, affordable UC education for the past 47 years with over 20,000 alumni. UC Blue Ash offers over 39 Associate degree programs, one Bachelor degree in Radiation Science, as well as six Certificate programs.
UC Clermont College began offering classes in 1972 and is located 30 miles east of the University of Cincinnati in Batavia Ohio offering 35 Associate degree programs, one Bachelor degree program and 14 Certificate programs on 91.2 acres. UC East began in fall of 2010 in the former Ford plant and is home to UC Clermont College's Allied Health programs. UC's College of Nursing offers a Bachelor of Science in Nursing and the College of Education, Criminal Justice and Human Services offers a Bachelor degree in both Criminal Justice and Paralegal studies at this location as well.
Diversity and Inclusion
The University of Cincinnati embraces diversity and inclusion as core values that empower individuals to transform their lives and achieve their highest potential.
We offer a challenging, yet nurturing intellectual climate with a respect for the spectrum of diversity and a genuine understanding of its many components — including race, ethnicity, gender, gender identity and expression, age, socio-economic status, family structure, national origin, sexual orientation, disability and religion — that enrich us as a vibrant, public, urban research university for the 21st century.
By using the talents of people from different backgrounds, experiences and perspectives, the university demonstrates its commitment to creating a community that values the contributions of all its members.
These approaches enable us to prepare students for an increasingly global society, increase the number and retention of underrepresented students, faculty and staff, and enhance diversity relationships with the larger Cincinnati region.
We envision a world-renowned urban campus energized by the spirit of pluralism — the quest to celebrate differences within an intellectually stimulating environment, to seek understanding across social, economic and cultural barriers, to pursue transformation through sustained interaction with others, and to empower all members of the University of Cincinnati community.
Creating Our Third Century
University of Cincinnati is investing in our Faculty to become a global leader in targeted interdisciplinary areas of academic excellence by combining current faculty strengths with new cluster hires, elevating the University's reputation, research profile and opportunities for more sponsored research and scholarship.
We are investing in our Staff through professional and leadership development via enhanced training and solutions as well as investing in enterprise-wide learning and performance management systems that will enable us to better measure, monitor and consistently analyze workforce planning data in to 2015 and beyond.